Mark Hawkins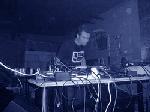 Mark Hawkins is in the vanguard of the new wave of new wave UK techno. Beginning his career in 1999 with a split EP with Michael Forshaw on the latter's much loved Chan 'n' Mike's label, Hawkins was soon noticed by Saskia Slegers for whom he has now recorded 6 eps on her well known Djax Up Beats imprint. He has also released on, amongst others, Pro-jex, Mosquito and Hörspielmusik.
In 2003 he began his own label, Crime, which is proving to be a credit to his already impressive history. Crime is now up to it's Fourth release, having already featured Michael Forshaw, Rotorik, and Mark himself along with remixers Si Begg, Bill Youngman and DJ Urban, and has scored much acclaim in reviews and DJ reactions.
Mark has also performed regularly over the past 5 years, both Live and as a DJ in The UK, France, Germany, Holland, Switzerland, Latvia, Lithuania, Poland and Australia.
Now resident in Berlin, Germany, Mark continues to forge his own path on the electronic music scene, experimenting with sound, and soaking up the city's musical influence.